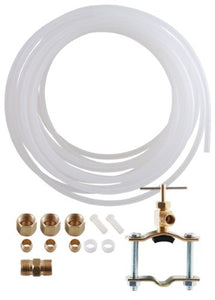 Description
FUNCTIONALITY: This Ice Maker and Humidifier Installation Kit will provide you with clear and sparkling ice cubes and drinking water at your refrigerator by routing purified water from your existing water filter system.

COMPATIBILITY: Supply pure water from your water filtration system to your refrigerator, water coolers dispenser, and humidifiers using our Ice Maker and Humidifier installation kit.

INCLUSION: Complete set of 1/4-Inch x 25ft Polyethylene Tubing that is durable and will not corrode. Includes self-piercing saddle valve and fitting.

INSTALLATION: This kit is easy to install and gets the job done fast without any inconvenience. The self-piercing saddle valve quickly penetrates your pipe to divert the water where you want it to go and without turning off your water supply. Installation instructions included.