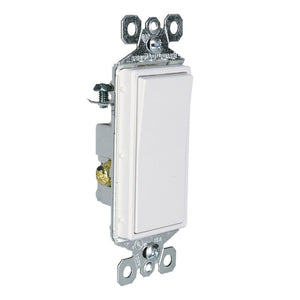 Description
Residential grade on/off paddle light switch is made of high-quality materials; impact resistant polycarbonate thermoplastic and solid steel. Device dimensions (excluding mounting yoke): 2.76" H x 1.40" W x 1.07" D
Shallow body design fits standard junction boxes. Back insert and side terminal wiring (copper only). Break-off plaster ears. Grounding screw
Suitable for houses, condos, apartments and most commercial areas that require only 15A switches such as offices, schools, stores, shops, restaurants, public facilities, and hotels
Use with ENERLITES wall plates for the best fit and color match, part numbers SI8831-W, 8831-W standard size, 8831M-W mid-size, or 8831O-W oversize
15A, 120V-277V AC, Single Pole.